Vanda Talks about the Philippines at Ciara's Home from Home – "All About Community" – April 2018
For their theme "All About Community," I got invited to talk about the Philippines at Guia's play school Ciara's Home from Home (Thanks Ciara!). Guia and I taught her classmates about the Philippine Flag, Peso, rice, Filipino game "sungka", "Mano po" (bless the hand of elders), our national costume called Balintawak and the Jeepney! They met our Filipina doll too. 🇵🇭 We also gave them Philippine luggage tags for when they visit the Philippines!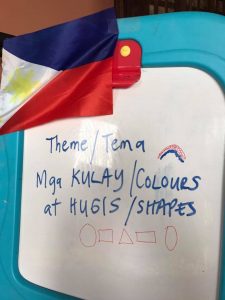 From September 2017, Vanda Brady has been teaching her two children Filipino at her home in Long Meadow View.  She is echoing the topics being taught in their Irish schools.  Here is a record of her lessons at home.
This section is an online resource to encourage parents to teach Filipino or Tagalog at home. Teaching another language to your children provides cultural education that is broader than that of mono-racial children, giving them a more well-rounded sense of the world and have an enhanced sense of self and identity. Here are some useful links:
Multimedia Approach to Learning Tagalog
Tagalog Toddler Games for Kids
English-Tagalog Bilingual Bible Coloring Book for Filipino Childen
"Si Jepoy Dyip" Storybook Set to Capture the Hearts of Car-loving kids
Samut-Samot: Homemade Worksheets to Learn Tagalog
Filipino Books for Babies (https://www.thelearningbasket.com/2017/05/filipino-booksbabies. html)
Helping Kids Speak Filipino Better 
Philippine Fiestas – A Way to Learn the Filipino Culture
10 Filipino Games you can teach your kids
10 Ideas on how to teach your child filipino 
Tips to raise a child to be fluent in Filipino